Love Difference is taking part of the 3rd Canakkale Biennial. Presenting "Transformation", ideated by Love Difference and artway of thinking a collective artwork that represents the statements resulted from the interdisciplinary research project "Methods – Processes of Change". There were created 4 canvas with the following texts: "Continuous passages from to chaos to order" "Start to change looking inside ourselves" "Share and collaborate to sustain the change" "Transformation will be metabolized once the generated scenes will require a new transformation"
In 2012 for the occasion of Canakkale Biennial Love Difference runs a two days experiential workshop on dialogue and collaboration. The participants experienced different perception techniques, change of point of view, group sharing. The practice bases on the belief that each process of change is the result of a self consciousness process and of its sharing. The result of the workshop is a canvas in Turkish created by the participants.
"Degisimi surdurmek icin paylas ve yardımlas" realized by Zeliha Afacan, Saba Baki, Emanuela Baldi, Sonay Demir, Metin Dilek, Perihan Duman, Filippo Fabbrica, Semahat Kaplan, Servet Kordeve, Cemal Oney, Ezgi Tokgoz, Hale Uzelli for Canakkale Biennial.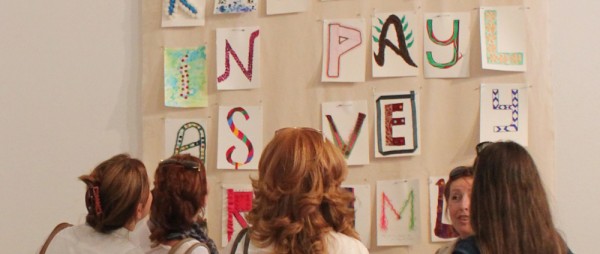 "Condividere e collaborare per sostenere il cambiamento" realized by Linda Tonti, Mauro Perna, Emanuela Baldi, Federica Thiene, Piera Ustori, Piera Falorni, Camilla Ferrario, Conti Valerio, Incerpi Bianca,Incerpi Marina, Mazreku Ramadan, Nurije Tabaku, Barakissa Coulibaly, Rosa Trabucco, Tecla Magi, Elora Mazzola, Alba Pertini, Giuliana Galli, Stefania Mantovani, Giacomo Ferrario, Rosanna Codolo, Vanna Mantovani, Chiara Marini,Giuseppe Fiore, Simona Allegranti, Chiara Fersini, Sandra Mariotti, Filippo Fabbrica, Snark, Asia Ghisti, Letizia Porcù, Tatiana Zazzeri, Paola Cioncolini,Artur Sinani, Simone Butti, Susanna Stagnati, Sonja Linke, Pacini Lara, Manuela Mancioppi, Tabaku Adelajda, Malaspina Lorenzo, Sara Gambassi, Samuele Tomberli,Silvia Gori, Lorenzo Malaspina, Sebastiano  Matteucci, Tommaso Bellandi, Gianmarco Frateschi, Martina Lavilla, Irene Mori, Giacomo Scaramuzza, Sveva Stiavelli for Ginestra – Fabbrica della Conoscenza, Montevarchi (Arezzo).
Workshop