"From oversight to community to cocreation" experiential workshop at the Singapore Art Museum
How can one harmonise their creative process in relationship with a community?
This interactive workshop takes participants through a methodology, facilitated by Love Difference, an artist collective from Italy, who have focused on community-based public art since 2002. The workshop explores the responsibilities of the gesture, the narrative dimension of the creation, and the sustainability of the production process to enhance the creative process.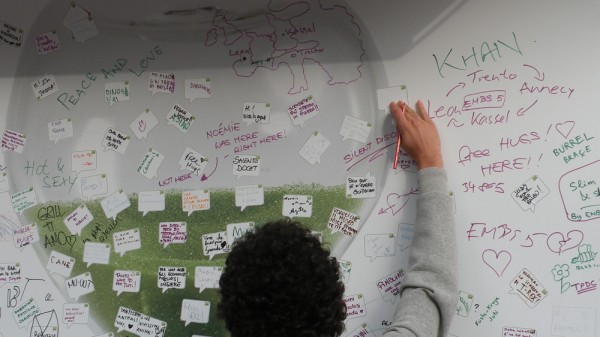 The workshop will cover the following topics:
• What is the narrative of my creation?
• How can my creation impact a community?
• How can tools of art and design envision Singapore's future?
LEARNING OBJECTIVES
This workshop draws on Love Difference's established experience in mapping and building community approaches. Love Difference will present the co-creation methodology they employ by Artway of Thinking, a contemporary art research group. Highly experiential, the workshop will provide participants with a process that will enhance their own practical and research work.
By the end of the workshop, participants will be able to:
1. Employ a co-creation methodology framework in their own research/practice, hence;
2. Reveal the narrative dimension of their creation;
3. Use basic elements to evaluate the sustainability of production process;
4. Employ these considerations to gain better understanding of a community, and;
5. Produce a shared vision for a tangible outcome to impact the community
MATERIALS PROVIDED
Detailed handouts to be used during discussion portions of the workshop; scenarios and questions used during small group critique portions; evaluation; participants will also indulge in Love Difference's ice cream at the Pop-Event.
INTENDED AUDIENCE
Professionals and students in the areas of Art, Design, and/or Technology, who may be new to community work in their practice/research. This could include other professionals working with community, such as art therapists, social workers, architects etc.
DURATION/PROGRAMME
The workshop proceeds in three sessions in which Love Difference: holds a public talk on their method working in and with community; a two-day workshop and thereafter, a Love Difference Pop-Up event held in a café venue.
In this Pop-up Event participants will experience the Love Difference's unique ice cream that was created to stimulate and promote dialogue and exchanges between groups. Difference's unique ice cream, which was created to stimulate and promote dialogue and exchanges between groups.
Workshop involves: discussion, role-play, small-group work, demonstration, and pop-up event (total 18 hours). Participants are encouraged to also attend the Public Talk that precedes the Workshop.
Public Talk (Open to public)
27 Jan 2015 (Tues), 7 p.m. – 8.30 p.m.
Venue: Moving Image Gallery
Workshop
30 Jan 2015 (Fri), 7 p.m. – 8.30 p.m.
31 Jan – 1 Feb 2015 (Sat – Sun), 10 a.m. – 1 p.m.; 2.30 p.m. – 5 p.m.
Venue: Singapore Art Museum Gallery 3.7 (Level 3)
Pop-up at Café (Same day post-Workshop)
1 Feb 2015 (Sun), 6.30 p.m. – 9 p.m.
Venue: Food for Thought at SAM at 8Q
NUMBER OF PARTICIPANTS
Enrolment is limited to 15 – 20 participants only, to enhance the interactivity of the course.
DEADLINE FOR REGISTRATION
20 January 2015 Email: heybrack@gmail.com
Workshop