"Experts and researchers from different disciplines present visions, methods and experiences, offer the possibility to experiment practices on the relation between individual (self), nature and society"
8.12.2012 – The international symposium rises from a holistic vision as idea that natural systems (physical, biological, chemical, social, economic, mental, linguistic, etc.) and their properties, should be viewed as wholes, not as collections of parts. This often includes the view that systems somehow function as wholes and that their functioning cannot be fully understood solely in terms of their component parts. In the latter half of the 20th century, holism led to systems thinking and its derivatives, like the sciences of chaos and complexity.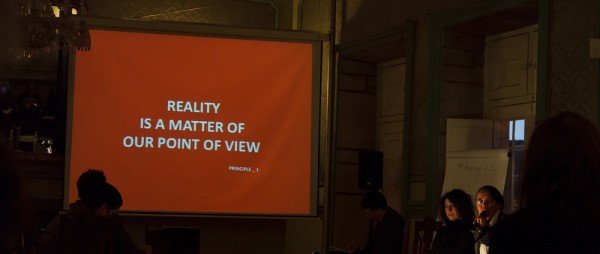 The encounter is carried out through the interventions of experts, open questions exchanges and experiences of techniques on self consciousness and group practices.
The theories from which the symposium was conceived are: the individual is a singular-plural entity, he evolves and changes through the relation with the other; sharing is the main element for transformation; harmonious groups create harmonious processes of change.
With the participation of: Michelangelo Pistoletto, artist and founder of Love Difference and Cittadellarte-Fondazione Pistoletto; Idalina Conde, sociologist, University of Lisbon; Stefania Mantovani, artist of Artway of Thinking; Orla McGuinness, psychotherapist of Lived Lives Project; Seamus McGuinness, artist of Lived Lives Project ; Paulo Cunha e Silva, professor of contemporary thought, University of Porto; Matteo Polettini, physician Complex Systems and Statistical Mechanics, University of Luxembourg; Federica Thiene, artist of Artway of Thinking; Lisa Wenger, gestalt counsellor Hoffman Institute; conducted by Emanuela Baldi and Filippo Fabbrica, artists and project managers, Love Difference.
"The title of the event is inspired by the book Être singulier pluriel (Being Singular Plural, 2000) by the philosopher Jean-Luc Nancy tackles the question of how we can speak of a plurality of a "we" without making the "we" a singular identity. The premise of the title essay in this book is that there is no being without "being-with," that "I" does not come before "we" (i.e., Dasein does not precede Mitsein) and that there is no existence without co-existence. (…) There is no meaning if meaning is not shared, and not because there would be an ultimate or first signification that all beings have in common, but because meaning is itself the sharing of Being" (wikipedia).
The encounter is open and free after registration, it takes place around the table Love Difference 'Mirror Sea' by Michelangelo Pistoletto.
Partnership: In the context of Terzo Paradiso for Guimarães 2012 European Capital of Culture. A project by Cittadellarte-Fondazione Pistoletto, Love Difference – Artistic Movement for an InterMediterranean Politic and CCTAR – Centro de Criação para o Teatro e Artes de Rua. An event in the occasion of The Third Paradise 21 December 2012 Rebirth-day: the first worldwide day of rebirth.
Being Singular Plural | International symposium | 8 December 2012, Guimarães | 10.00-13.00/14.30-18.00 ACIG – Associação Comercial e Industrial de Guimarães, Rua da Rainha D. Maria II, 58 – 4800-431 Guimarães
Ideated and coordinated by Love Difference.
Activities
Workshop