"A missing button, a ruined hem, an insoluble blot, a hole, a rip become distinctive traits to make your garment special and receive care"

09.01/27.03.2013 – Care is a workshop, a creative experience through which you can have a clothing of yours transformed. Artists and menders create special patchings starting from the story of your relationship with a piece of your wardrobe.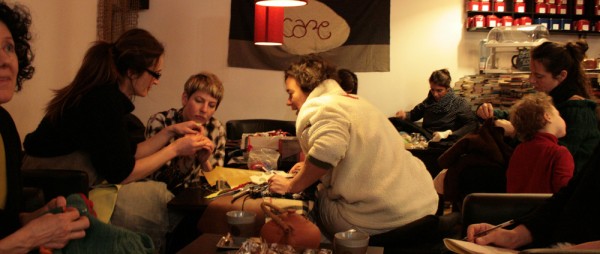 Every Wednesday from 4.00 to 8.00 p.m. Lo Spazio in via dell'Ospizio 26/28, Pistoia.
Bring a clothing of yours that you want to have mended, while sipping tea or reading through a book, you will answer some questions on the story of your garment. Together, agree on the changes that will be done to the object with the mender. Enjoy the time needed to mend your cloth by talking with the person who is taking care of your object. Get back your clothing transformed in a unique piece.
Through this practice, the project aims at investigating the issues of "care and "gift", the value of relationships and the attention to the others generated by the creative action. The photographic documentation of the mended clothing will be exposed at the end of the project.
Partnership: Lo Spazio Bookshop, Bistrot Studio graphics, Studio Sanesi e Associati (Prato) with the patronage of Provincia di Pistoia and Comune di Pistoia
Activities